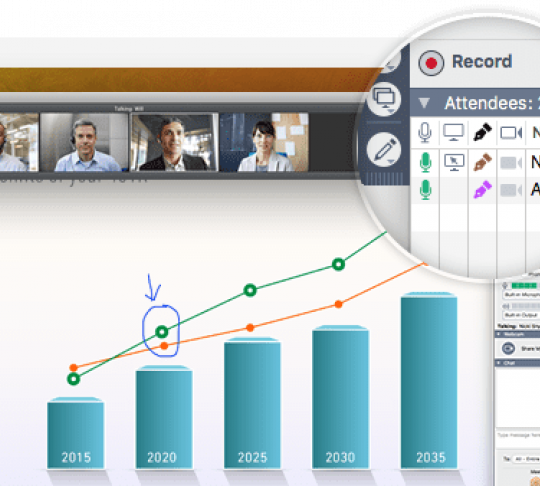 GoToMeeting offers three different tools that allow you to draw on the screen while you are sharing your screen. The Pen allows you to draw on the shared screen and either sketch something or underline something. The Highlighter allows you to, you guessed it, highlight certain parts of text or an image that you want to call attention to. The Spotlight is like a laser pointer that you'd use during a real life presentation in order to draw attention of your team's attention to certain areas. These three tools make GoToMeeting one of the most effective online whiteboard collaboration tools around.
GoToMeeting offers a screen drawing tool called GoToMeeting Spotlight, which is an extremely easy-to-use presenting tool, and offers an effective way to collaborate in realtime with your team. GoToMeeting Spotlight offers a laser pointer cursor that allows you to highlight ideas and keep your team's attention on the content you're presenting and discussing. GoToMeeting also offers shared screen annotation so that the message you are trying to convey is understood loud and clear by your team. GoToMeeting makes it feel like you're collaboratin in real life, even though it's all digital.
GoToMeeting is built for business and offers HD screensharing and recording, built in VoIP, and more.