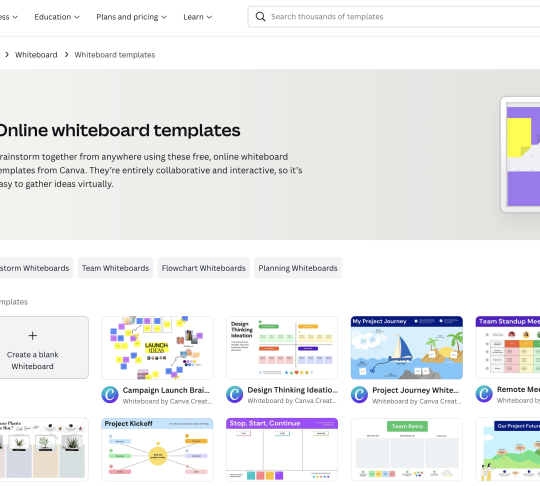 Canva offers collaborative whiteboard capabilities, with a wide variety of free online whiteboard templates to choose from. Teams can use Canva for online whiteboard activities, and the interactive templates can save a lot of time by structuring the brainstorming or activity in a certain way.
Canva offers whiteboard templates for brainstorming, flow charts, planning, stakeholder mapping, remote meetings, design thinking, voting, project kickoff, project roadmap, diagramming, SWOT analysis, ideation, and more.
Online whiteboard collaboration tools are becoming essential tools for remote workers and companies with distributed teams. In addition to an online whiteboard, Canva provides a whole host of design features for teams interested in designing posters, infographics, logos, flyers, banners, menus, resumes, invitations, business cards, video intros, and more.