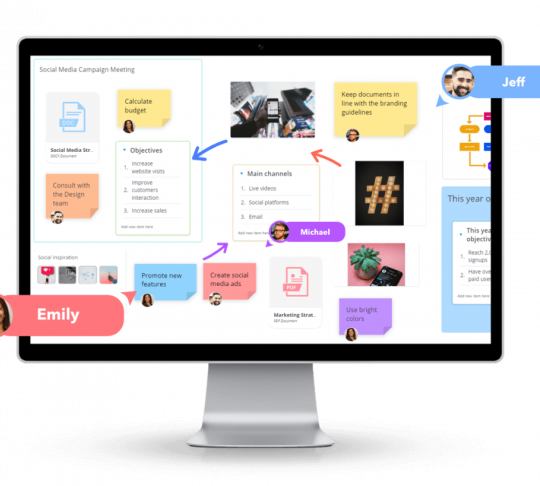 Ayoa is an all-in-one online whiteboard where you can brainstorm ideas, work together and get things done. By seamlessly blending idea generation, task management and team collaboration features, Ayoa goes beyond convention and provides a platform for teams to work together and cultivate knowledge that can be used to drive success.
The perfect remote replacement for an office whiteboard, Ayoa boasts a number of creativity and productivity-boosting features including: sticky notes, lists, freehand annotation, attachments, flowcharts and images.
Ayoa has an extensive template library to help you get started including SWOT analysis, Meeting Agenda, Design Brief, brainstorming canvases and many more.
Whether you're looking to collaborate in real-time, or present your whiteboard to your team, Ayoa makes sharing and exporting quick and easy. You can easily export your whiteboards as a PNG or JPG image, or share them with your team with the click of a button.
As a complete project management tool, you can also develop areas of your whiteboard using Ayoa's mind mapping functionality to take your creative thinking to a whole new level and uncover groundbreaking ideas. When you're ready to action your ideas, easily drag and drop items from your whiteboard into a task board where you can plan, manage and track your tasks from start to finish!
Integrations include: Zoom Video, Google Calendar, Google Drive, Dropbox and Evernote.