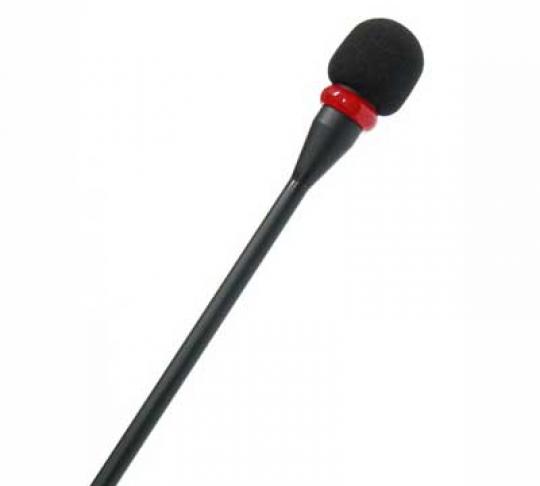 Gooseneck mics got their name because they resemble a goose's neck. These microphones are the best way to get perfect quality audio. Using a gooseneck mic means investing in several microphones. There will need to be a gooseneck at every seat, giving the individual speakers their own microphone.
With gooseneck mics, there no more relying on just one or two microphones to pick up every voice in the room. Gooseneck mics will ensure that everyone gets heard. These microphones are limited to the speaker. They typically don't pick up background noise. Gooseneck microphones are able to block out the sound in a way that another type of mic on this list, the ceiling mic, does not. Unfortunately, there will need to be a mic for every speaker. This will create a cluttered table and require a lot of cables.
The Pros
Gooseneck mics are a good way to ensure that every speaker gets heard. Everyone at the conference table should get their own mic, instead of using a shared mic that's for the room. Gooseneck microphones are also capable of delivering great sound quality.
The microphones limit the ability to pick up background noise. Users will appreciate the fact that the only sound these microphones will pick up is the sound that is in front of them.
The Cons
Depending on how many participants can be in the conference room, that could mean a lot of mics. Having a lot of mics can cause the conference table to be covered with a lot of cables and created a cluttered appearance. There are wireless gooseneck mics, but it still means having to place a lot of microphones on the table.
Gooseneck mics aren't attractive and no one wants to mess up the look of their office with a table full of mics. However, that's the trade-off that has to be made to achieve enhanced quality.